Overlanders was founded by Derek and David Rynhart following our experiences touring throughout Europe over the last number of years.
We have been touring by motorcycle for the past eight years and between us have clocked up over 250,000 kilometres across 30 countries. We are continually researching and planning new tours to far off distant lands including Dakar in Senegal and South America
As we began to travel further away from Ireland we found we were spending more and more time on motorways just getting to and from our destination. This was both time consuming and expensive, and at the end of every tour we asked the same question: "Where can we find a company to transport our motorcycles for us?" Hence, Overlanders was established.
Derek Rynhart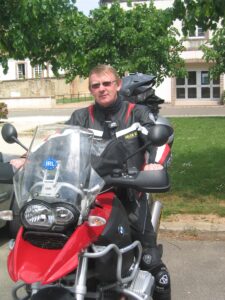 I think my interest in all things mechanical started in my very early teens, with the main attraction being anything on two wheels. This fascination continued to grow and at the age of 14 I acquired my first motorcycle, a 'well used' Honda 50.
It wasn't long before this was upgraded to a Yamaha YZ250 motocross bike and over the next two decades I competed in numerous amateur motocross and grasstrack events around the country.
It wasn't until my early forties, with my family all in their late teens, I began travelling and soon discovered my love of touring on two wheels to far away places.
This new found passion has seen me travel extensively throughout Europe with some shorter trips into Asia and North Africa. Although my main work these days is in mainland Europe, the real excitement for me is in crossing new frontiers and exploring new continents.
David Rynhart
Erg Chebbi, Morocco
Having attended motocross meetings as a spectator from a very young age and grown up around motocross bikes it wasn't long before I had my very own Honda CR50 at the early age of 8 (complete with milk crate for getting on and off). The love of bikes and all things bike related has grown ever since.
Over my childhood and teenage years I have owned and ridden 50cc – 450cc two stroke and four stroke motocross bikes. The attraction soon turned to road riding and acquiring my license, buying an Africa Twin and being invited on a 10 day trip to the Pyrenees, I headed for Europe. With the travel bug worsening I returned to Central Europe that same year for another two week trip at which point the bug was beyond curable.
I have been on the road ever since (whenever I could get away from work that is) and to date have clocked up some 40 odd countries (mostly on bikes). Trip durations have varied from three days in Andalucía (fly in-fly out) to five weeks across Europe, into Russia, Ukraine and home. With a burning desire to travel further and further away from home, in every sense of the word, to far off distant horizons and someplace new, looking for bigger challenges and the associated rewards. The bucket list is very long. Living by the "one bike is never enough" motto I must admit I am guilty of over spending on motorbikes in an effort to acquire my ultimate collection, from exotic sports bikes to dual purpose RTW machines and every thing in between.